Our Hog Roast Stonehouse experts have perfected our signature food over many years, using our own brand of hog roast machines that we build by hand and sell all around the world. They're the same high-quality, stainless steel machines that we also hire out to our customers to do a DIY and they're much easier to use than you may think – you simply prepare the meat, set the temperature and turn it on and then all you have to do is keep a watchful eye over it as it sizzles away to perfection.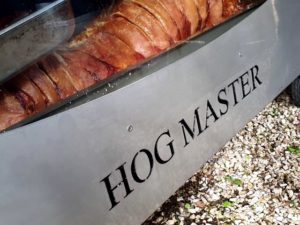 The thing about our machines is that they can do much more than roast a hog, as we designed them to work just like normal ovens do, so you can simultaneously cook vegetables and potatoes inside if needed (or even a pizza or two!). Not only that but we have attachments so that you can spit-roast your choice of meat instead, like lamb, beef or poultry, or you can even make a traditional barbecue. Regardless of why you want to buy your own equipment, whether you're a professional caterer branching out into this style of cooking or you're a domestic cook who's seen the need for your own machine at home, Hog Roast Stonehouse can help you to choose the one that's perfect for your needs.
We have several of our own models on sale in our Lancashire showroom, both new and used, as well as ones made by other companies, as we want all of our customers to have the ones most suited to their requirements. When you buy a used machine from us, you're still ensured great performance, as we service them beforehand and they come complete with both a 12-month gas check certificate and a 12-month warranty. You can even trade-in in the future, if you fancy a different or newer model.
You're welcome to visit our showroom without having to book with Hog Roast Stonehouse and you can even tour our factory and see one of our machines being built from scratch. We'll help you to choose the hog roast machine that's right for you.