In case you weren't already aware, we just wanted to let you know that the Hog Roast Chalfont St Giles team aren't just at the forefront of hog roast catering in the area – we also design, manufacture and sell our own market leading hog roast catering equipment!
As the most experienced hog roast professionals in the area, we are ideally placed to know exactly what is required to get the most out of our hog roast equipment and the essential components and design aspects that make our machines the most reliable and multifunctional pieces of equipment available for this style of catering.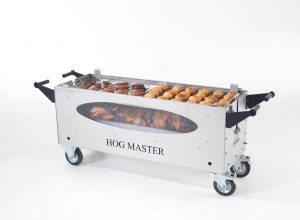 Our machines are manufactured using the most up to date hog roast catering technology and comprised of the highest grade of stainless-steel components. As well as operating at an optimum level when it comes to food preparation, they also look great in any setting, providing an impressive spectacle for your diners who can enjoy watching you prepare a delicious hog right there in front of them.
We manufacture our equipment in our own UK workshop and have a very varied client base who love the quality and functionality of our equipment. We provide models to suit all types of event catering from more compact models that are perfect for smaller gatherings to robust machines with a vast capacity that are ideal for large-scale catering for festivals, concerts and other events that require mass catering.
If you are looking for a machine that can do several different things at once, you certainly won't be disappointed. We have models that can prepare different meats and potato and veg side dishes simultaneously, two whole hogs in one go or BBQ style food, for example.
We can advise you on the best equipment to meet your requirements and you will benefit from our extensive expertise in the tips and information that we can give you to get the most out of your new machine.
If you would like to find out more about our range of hog roast machines and what would be the best option for your needs, please give the Hog Roast Chalfont St Giles team a call today!