When it comes to form and function, you can't get much better than a Hogmaster Pro if you are doing professional catering on a smaller scale or you want a hog roast machine for personal use. This model of hog roaster is such a good fit for so many different types of catering needs and judging by our diverse range of clients who go on to purchase a Hogmaster Pro from us, our happy customers certainly agree!
Our Hogmaster Pro has been purchased by professional mobile event caterers, as well as for use in restaurants, hotels and pubs, and by amateur chefs who are seeking to press their guests with the ultimate garden party feast.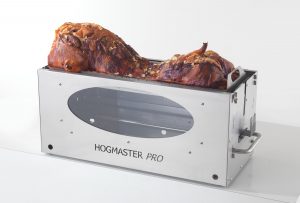 It works so well in different environments and smaller venues as it is much more compact than Hog Roast Coleshill's larger commercial models whilst still having the same level of performance and helping you to produce the same great results. This reliable and multi-functional piece of kit will help you to deliver a perfectly cooked hog prepared in a traditional way alongside lots of other dishes. It can cook up to a 35 kilo pig, amongst many other dishes too. It can also be transformed into a mini BBQ and can even be used to prepare pizzas. So, thanks to the Hogmaster Pro, you can produce a complete meal using just one piece of apparatus and prepare it all in the location of your choice!
Another reason why the Hogmaster Pro is such a hit for any type of catering is that is can be transported easily and used just about anywhere. You don't need to worry about making lots of room for this machine – it can even be used in indoors if you don't trust the weather. It also doesn't require any mains power, so you can rustle up a delicious hog roast meal for your customers, friends or family anywhere you like.
Whether you are a professional caterer or an amateur chef, if you would love to transform your event catering capabilities, please get in touch with us here at Hog Roast Coleshill to find out more about our versatile Hogmaster Pro machine!