A local sports centre had for a long time been in desperate need of some new equipment and renovation work to modernise their tired and worn out facilities, but with an extremely tight budget, they lacked the essential funds they needed. Andy, the sports centre manager, realised something had to be done or they were in danger of facing closure and the community losing a valuable service. He decided to organise a fundraising event to help them raise the money, but to sell as many tickets as possible, he needed to provide some great food and a fun night on a shoe string budget. Andy had the fun part covered when he came up with the idea of a sports-themed fancy dress party, whereby everyone would come dressed up as their favourite sporting hero, either past or present! But what about the food? He didn't want to resort to buying frozen platters from a discount supermarket, but he was worried that was all he could afford. Just when he thought he had no other choice, Andy suddenly remembered a party he had been to a few months earlier where his friend had hired a hog roast machine. It only happened to be the best hog roasting machine in the business-one of our awesome Hogmasters!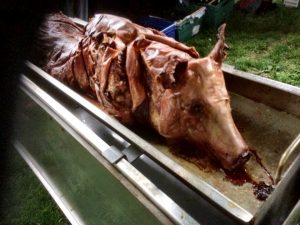 Andy sounded like a new man after he had spoken to us on the phone and we told him exactly how budget-friendly hiring one of our Hogmasters is, how much meat it can cook in one go, and how it achieves such amazing results for relatively little cost! We also advised Andy on where to source the best locally-produced meat to ensure his party fare was of the best possible standard!
When we got there and set it up for him, the sports hall had been transformed into a memorabilia-filled celebration of sporting achievement. Andy couldn't believe how easy the Hogmaster was to use and he couldn't wait for everyone to try the pork! When he called us after the event, he was absolutely elated! Tickets for the event had all sold out and he told us the extra donations came flooding in as everyone watched the pork slowly roasting through the Hogmaster's glass fronted panel. Andy achieved his goal and the money he raised will help to give his sports centre the makeover it desperately needs!