You may know that Hog Roast Sevenoaks also runs a machines business whereby we sell our hand-crafted machines to fellow caterers and members of the public, but what you may not know is that we also operate a hire service. Here at Hog Roast Sevenoaks we know that investing in one of our machines is something that many people have not done before and understandably with no experience in the hog roasting business it can be daunting to dive in head first by buying a machine. Therefore, we offer our clients the opportunity to hire any and all of our machines for as long as you wish! This way you get to try out as many machines as you like with absolutely no commitment to purchase one afterwards- although we are sure once you try it you will want to have one of your own!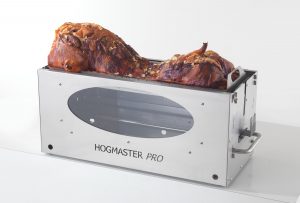 This weekend we were out with Hog Roast Sevenoaks to pick up the Hogmaster Pro machine from Dave who had hired the machine for the past few weeks. Having been interested in starting up a catering business, Dave was keen to see what our Hog Roast Sevenoaks machines could do and was interested in the different meals he would be able to create and so he had decided to hire one of our machines.
The Hogmaster Pro is one of our smallest machines, ideal for the novice caterer or for small gatherings. It may be small but it still packs a punch and with the Hogmaster Pro you can roast a small hog or joint of meat plus accompaniments!
The Hogmaster Pro had first caught Dave's eye when he visited our showroom last year. Having had a demo from one of our engineers he wanted to take it home for a few weeks and get some more practice in before deciding whether or not to buy one for himself and so upon collection we were of course eager to hear his verdict…