We've just had some great feedback from Jessica and Tim, two newlyweds who recently hired one of our superb Hogmaster machines to do their own catering for their wedding reception! With the couple preferring to save their money for a deposit to buy a house rather than splashing out on a big fancy wedding, they were determined to do everything themselves and get all their guests roped in to help! Instead of buying them wedding presents, Jessica and Tim assigned all of their guests with a job to do instead: Jessica's mum was given the task of making her daughter's wedding dress, her dad was appointed chauffeur for the day and Tim's mum was in charge of the cake. That left the catering to take care of and with no eager volunteers queuing up to take on this huge responsibility, Jessica and Tim needed an option that was economical and not too stressful whilst still providing food fit for their wedding day. With everything else in hand, they were left in a quandary, until the best man suggested contacting us after trying a homemade hog roast at a party a few months ago. They took his advice and were very glad they did! Our experienced team talked them through their options and explained how straight-forward and budget-friendly hog roasting is, especially when it's done using our high quality Hogmaster!
Since the best man came up with the bright idea, he was nominated as head chef for the day and his initial concerns were swiftly allayed when we arrived at the venue on the morning of the wedding and talked him through everything. He was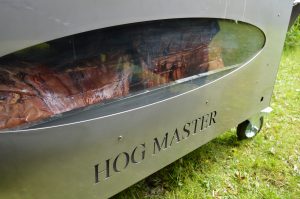 relieved that he would be able to cook without missing out on everything else and because the meat is cooked slowly over several hours on a low heat, he could get it fired up and leave it to do its thing whilst he jumped into his suit and went to the chapel next door to perform his other duties of the day! Multi-tasking to the max, he managed to do his best man bit whilst the Hogmaster did all of the hard work for him and then get back to his cooking duties without fearing that the meat would be overcooked. Jessica and Tim loved it and they told us all of the guests were extremely impressed with the results. Although the best man was apparently trying to take all of the credit, they think their successful wedding hog roast had more to so with the quality of our Hogmaster machine!