When our customer Joshua contacted us about buying one of our Hogmaster machines, it was to complement the others he has already purchased from us in the recent past. His catering company is going from strength to strength and he's found the need to buy another already, which is great news. The Hogmaster is an easy, low-cost way to cook fabulous food, as Joshua knows all too well by now. It's so simple to use that you won't believe it and many of our customers, like Joshua, have hired one first, been bitten by the bug and then ended up buying one (or more than one). The machine has a single burner (it runs on gas) and pre-set temperature, so you prepare your meat at the top of the machine and then turn it on and watch over it as it cooks to perfection before your eyes; it really is that easy.
When Joshua came to visit us to order his most recent Hogmaster, he told us that one of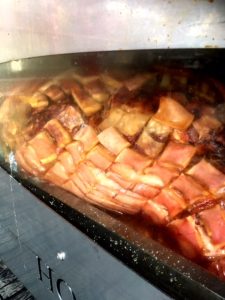 the reasons he loves this machine is that it's so incredibly versatile. We designed it to be that way, knowing that many professional caterers prefer to offer variety to their customers. So with this one machine, you can roast a hog or spit-roast another animal or bird and then use the lid as the serving table. However, you can also use your Hogmaster as a standalone barbecue or you can even barbecue at the same time as other meat is cooking away inside. Plus the inside is also not just for cooking meat; the Hogmaster cooks like a conventional oven, so you can add vegetables and potatoes and watch them cook perfectly, too, and you could even cook a pizza in there if you wanted!
In addition to great versatility, we also ensured that the Hogmaster would be compact and lightweight, so that you can fit it into a van or many kinds of cars, through garden gates and into all sorts of places that may not normally be accessible. We also made it to be tough, durable, and long-lasting, and as Joshua himself knows, it's worth every penny.