I love a good hog roast and after sampling so many around the UK, I decided to take the plunge and buy my own to use for regular events for my very large extended family – especially now that summer is on its way!
I didn't really know what to expect or where to start but the staff at Hog Roast Machines were fantastic and talked me through the various options and what my requirements were; I really needed something that was portable and lightweight but well-built, sturdy and large enough for when our friends, relatives and guests would be coming around to party.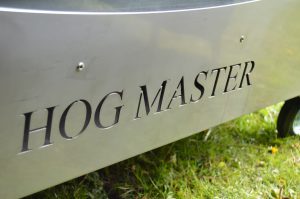 I ordered the Hog Master and when it arrived, I was very impressed to say the least and immediately rang round to see if anyone was up for a last-minute get together at ours to christen said machine.  A visit to the local butcher ensured that an adequate pig was available and a date was arranged; with some great tips, tricks and tutorials available on the hogroastmachines.co.uk website, I knew that I had made the right choice and that it was going to be fantastic!
In the meantime, a few days before the party, I decided to use the machine as a barbeque and it performed marvellously – this really is a bonus as it has dual use.
Once the day arrived, we set up the Hogmaster and picked up the pig; I thought that a 50kg pig would be sufficient even though the Hogmaster could hold a 75kg one – best not be too greedy to begin with eh!?!  With a cooking time of around 5 hours for a pig of this size, I started the roast at around 2pm with guests arriving around 5 but I thought that it would be quite a novelty for them to see what was going on with the roast; the Hogmaster has a glass panel window so everyone can see the pig roasting and smell the delicious aromas.
Well, once serving time arrived, everyone (especially me!) was very excited and couldn't wait for me to start carving the meat and the crackling off the pig – it was so succulent and I'm absolutely amazed and delighted with the machine that this could be a very regular thing; it will also fit into my estate so it may well be travelling to a few friends' houses!