Even though the summer weather is so changeable, there are plenty of people all over the country who are still enjoying a hog or spit roast outdoors or sometimes even indoors. Here at Hog Roast Swindon, we often cater parties and events for our customers and their guests outside in the wind and the rain, and even in the winter months, so don't let bad weather put you off from doing so yourself too. If you're thinking of hiring one of our fantastic hog roast machines, you can cook sheltering under a gazebo or inside a marquee tent, and if you have a large, well-ventilated space, you can actually cook inside if you prefer. A hog or spit roast DIY can always still go ahead regardless of the weather, but first, you need to hire the equipment.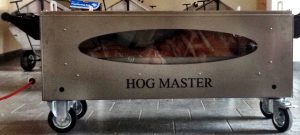 Graham called Hog Roast Swindon to ask about renting one of our hog roast machines for a family party recently, and his first concern was possible bad weather, but we explained how this doesn't need to be a problem and he was happy to go ahead. Graham wanted to wow family members with a sumptuous hog roast feast cooked all by himself. As he had no prior experience, he was keen to talk to us about how to use one of our machines, how to prepare the pig, and also where to source one.
When we rent out a machine, delivery and collection is included, and so is the knowledge that we impart at drop-off, as we don't just deliver the machine and wave goodbye – we walk you through the process, even though it's as easy as pie to use our machines. We can also advise you on preparing the meat if needed and we offer an optional service of providing the pig too, from a trusted local butcher or farmer. Graham asked us for a machine rental complete with a hog, so we booked him in and looked forward to showing him the ropes.
The weekend we delivered the machine to Graham, it was lovely weather. We showed him how to use the machine and how to prepare the meat and looked forward to hearing about his experience. When we collected it, it was clear that Graham did not really want to part from it, and he's asked Hog Roast Swindon for another hire next week!