We were contacted recently by a local cricket club who were in dire need of providing some more exciting food for the fans and players than their usual picnic style fare. They had been debating all summer whether to hire a hog roast machine and now they were worried they had left it for too long as the weather has now taken a turn for the worse. We assured them that our hog roasting machines can be used either indoor or outdoors, making it a great option for flexible dining and taking away the worry of having to abruptly change plans if the rain stops play. They hadn't realised before talking to us that it was possible to use one indoors as they had assumed like many other people, hog roasting, just like cricket, was a strictly outdoor affair.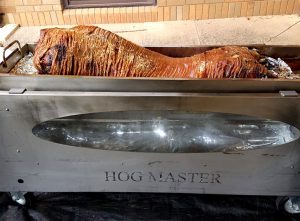 Our informative customer service team member went on to explain how incredibly versatile our equipment is and suggested they hire one of our Hogmaster's for the day. As well as being incredibly easy to use, even for a hog roasting novice, it can cook up to 75kg of pork in one go, which would easily feed all the batsmen, bowlers, umpires and fans twice over! The cricket club members liked the sound of that very much and they were thrilled with our swift service, which would allow them to have it in time for the Sunday match.
Ian, a former player who had reluctantly now hung up his cricket whites, had volunteered to be chef for the day and after received a clear and concise explanation of how to operate the Hogmaster, he felt confident that he would cook up a storm! Ian told us he had a great time cooking the pork in the majestic Hogmaster next to the clubhouse and because it was, as we had correctly informed him, so easy to use, he managed to produce perfect pork without missing a single ball that was bowled!
The pork was a huge hit with the players and spectators, and thanks to the Hogmaster, Ian was voted man of the match for providing such delicious food!