Hog Roast Skegness caters all kinds of events and parties in this area and beyond and our dedicated team provide tasty food at an affordable price. Whatever you're thinking of organising, let our hard-working professional chefs, assistants and waiters spoil you and your guests, but without the high price tag that many other catering services add. While we may not be expensive, we're certainly not cheap with our service or ingredients, and our repeat customers are testament to this. One of our repeat customers, Christina, has used our catering services many a time in the past, and in recent times, we cooked a hog and a spit roast for her daughter's wedding. This time, however, Christina called us to book us for another reason… She wanted to cook her own hog roast, for the first time!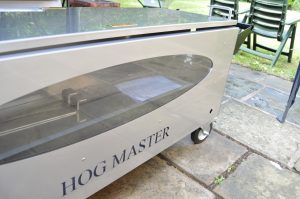 We hand-build our own excellent equipment that we use when catering and also to sell and hire to our customers. We spent years perfecting our hog roast machines and we have several in our current range, and they all have different features to make them suitable for different reasons. When Hog Roast Skegness is asked by a customer, whether old or new, about hiring one of our machines, our experience and expertise both come in very handy, despite the fact that our equipment is actually extremely easy to use. You may well be surprised by this fact, as many people are when we explain that it's mainly a matter of setting the temperature and turning it on, and then keeping an eye over the meat as it roasts away. A major part of the process, however, is preparing the meat before cooking, and we can talk you through this if needed, too, as well as provide the meat.
One of our Hog Roast Skegness chefs delivered the hog roast machine and a small hog to Christina over the weekend. She wanted to surprise her husband on their wedding anniversary by cooking the family one of their favourite foods, all by herself. Our chef went over the basics and then left Christina to it, and when he collected the machine the following day, she could barely be parted from it, and it seems that she is now hooked on cooking her own, as well as hooked on the ones we cook for her, too!