Choosing your own hog roast machine to buy for your own catering business can be a truly painless process when you deal with Hog Roast Hoddesdon, as we have the expertise and knowledge to help you do so with ease. We've spent many years assisting others to cook in this unique way and with top-quality stainless steel equipment that cooks delicious food each and every time.
A long time ago, we designed our own brand of machines and we now have several models available, each with their own capabilities, and we actually make them ourselves in our Lancashire factory by hand, and we sell them in our showroom and online to buyers worldwide. Whether you need a smaller machine for more intimate parties and events, like your customers enjoying a get-together at home in their back garden, or one that can cook two hogs at the same time as other food, for a larger function, we have the equipment to suit all kinds of catering needs.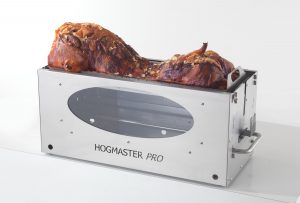 You're welcome to visit our factory and showroom and there's no need to book an appointment with Hog Roast Hoddesdon; simply turn up and we'll be more than happy to show you around. You can even see one of our machines being built from scratch and chat to our experts about your particular wants and requirements before taking a look at our new and used stock. Our used machines are sold at a fraction of the price of a new one and still have the same proficiency and they also come newly serviced, with a 12-month warranty and a 12-month gas check certificate. You even have the option to trade up in the future, whether that's because you'd prefer a different model or you need a bigger one in order to cope with customer demand!
We also sell our machines to domestic cooks who love this way of cooking too, so whether this is you or you're a pro chef who's looking for your own for work, contact Hog Roast Hoddesdon or visit us in person and we'll look forward to talking to you about your future purchase.