The process of buying your own hog roast equipment can be a daunting one but with Hog Roast Aberchirder, our dedicated experts will help you to navigate it with ease. You may be wondering what size machine you need, how it works exactly or whether you can use one to cook different food, and chatting to one of our chefs will surely put your mind at rest, as we've spent many years in this business, so we can pass on our knowledge to you in order for you to cook just like us.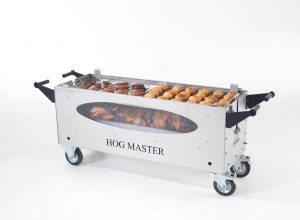 If you've tried one of our hog roasts before, you'll already know that our hog roasters cook mouth watering meat and crackling, but you can actually use them to cook spit roasts or barbecued food by using our special attachments, and you can even cook anything inside the machine that you'd usually cook in a normal oven. The latter is perfect for when you're cooking an entire meal all in one go for your customers, like a hog roast meal with seasonal vegetables, potatoes and tasty trimmings, as the meat cooks atop while your vegetables, potatoes (and even your sage and onion stuffing) cook away perfectly inside at the same time.
Hog Roast Aberchirder offers financing options and you can trade in your machine for a newer one in the future if you see the need, and regardless of whether you're looking for a brand new machine or a used one, we have something for everyone. Our used machines come serviced and with both a 12-month warranty and gas check certificate, and are just as versatile and capable but with a much lower price tag attached.
You may not know that we make our equipment by hand ourselves in our Lancashire factory and we display our new and used stock in our showroom, and if you make an appointment with Hog Roast Aberchirder in advance, you're welcome to visit us to speak to us in person. You can even see a new machine being built from scratch if you have a factory tour. Give us a call today and see how we can help you.