While you may well know Hog Roast Irlam as excellent purveyors of catering, providing all kinds of tasty, fresh food for customers and their guests both locally and nationally, you may not know that we have more strings to our bow too. As well as training people to become caterers like us, we also hire out our own range of hog roasting machines and we even sell them all over the world.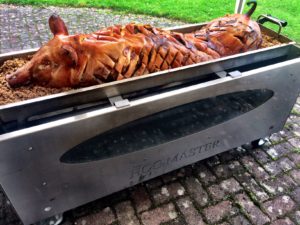 If you are thinking of buying your own hog roaster, we can help you to decide on the perfect one for your particular wants and needs. We have several machines in our range, from smaller ones to industrial-size, all with their own clear advantages, and you can see them in person at our Lancashire showroom. In our showroom, you'll see that we have both new and used machines available and even other brands, as we will always recommend a machine suited to you even if it's not one of ours. The used machines we sell are in great condition too, as we have a servicing centre at our factory, so you'll get a newly-serviced machine that still works just as well as our new ones, and it comes complete with a 12-month warranty and a 12-month gas check certificate.
You don't need to contact Hog Roast Irlam to book a visit as we more than welcome drop-ins, and you can even have a look around our factory, see one of our stainless steel machines being made from scratch and talk to our experts – and all that before you even get to look around the equipment on sale in our showroom!
One of our long-term Hog Roast Irlam customers, Lenny, already had three of our hog roast machines but he visited our factory and showroom recently to add another to his collection. Lenny has a catering business himself and after he saw a gap in the market for hog and spit roasting a few years ago, be bought his first Titan from us and never looked back. On this day, Lenny bought one of our bigger machines from us and we're sure he'll put it to good use soon.