Are you looking to upgrade and expand your repertoire ready of the new outdoor catering season? If you want a robust, reliable, affordable and versatile piece of catering kit that will allow you to cook a lot of different types of hot food on the go, one of our Hog Roast machines will tick all your boxes. Whether you are a large scale commercial caterer, or you cater for smaller parties, you will be surprised just how much one single piece of Hog Roast Machine's equipment can do.
Our expertly designed and meticulously built hog roasters come in a range of sizes and each model offers a variety of features that suits the needs and demands of professional outdoor catering. This includes for example, being able to cook two hogs in one go, having a grill function to cook BBQ food, chicken spit attachments for rotisserie whole cooked chickens, and heatproof glass viewing panels so your diners can enjoy watching the cooking process.
Purchasing a pre-used hog roaster will make your investment even more affordable whilst still benefitting from a high calibre machine that is in great condition. If you are buying one from Hog Roast Machine, you can be assured that you are buying from the best, and the majority of our used machines come from our network of franchisees.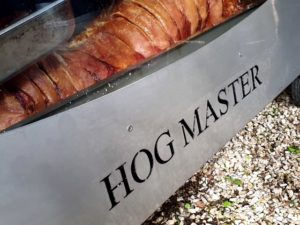 All our pre-used hog roasters are carefully examined, fully serviced, completely refurbished and fully deep cleaned prior to going on sale. They come with the same 12 month warranty as our brand new machines and a 12 month gas safety certificate. Buying a second hand hog roaster from us is also very straightforward, we will keep you updated on the models we currently have for sale and match you with pre-loved machine that will be perfect for your catering business. We will also deliver it to your premises completely free of charge if you live on the UK mainland.
You can check out the refurbished hog roasters we currently have for sale on our website or you can give us a call here at Hog Roast Machine to discuss your requirements.