If you're in the market for your own hog roast machine, to use for your events or wedding catering business, it may well be useful for you to know that here at Hog Roast Blackburn, we have our own range of equipment that we designed ourselves and build by hand from scratch. Our stainless steel wonders not only cook perfect hog roast centrepieces but we also have special attachments so that you can cook perfect spit roasts and barbecues too and you can even cook inside, just like you would a normal oven.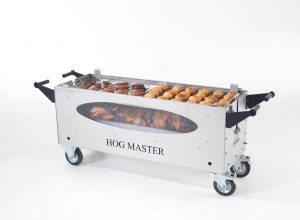 We think you'll be surprised by how incredibly versatile our Hog Roast Blackburn hog roasters are but they were developed with simplicity of use in mind, as well as being lightweight and easy to move around. As caterers ourselves, we transport our equipment far and wide, across all sorts of terrain, so movability and weight are both important factors, let alone the fact that we wanted our hog roast machines to be relatively straightforward to operate. When you cook your meat with one of ours, once prepared and loaded, you just set the temperature and turn it on and then all you have to do is keep a watchful eye on your food as it sizzles away to absolute perfection. It really couldn't be easier!
With several of our own models available, from smaller machines to a beast of one, we can help you to choose the right one for your particular requirements. In our Lancashire showroom, where we welcome visits if you book with us in advance, we have both new and used models on sale and there's no need to worry if you're thinking of purchasing a second hand machine as they come newly-serviced and complete with a warranty and gas check certificate for your own peace of mind.
Call Hog Roast Blackburn today and speak to our experts or you can book your appointment to come and visit us in person in Lancashire and we'll help you to kick start your own hog and spit roasting venture. We look forward to seeing or speaking to you very soon!