We understand that gift shopping can be tricky; even more so now, and especially if it seems like your intended recipient already has everything they could possibly need! But what if we told you that it doesn't have to be that hard at all?
It's common knowledge that the best gifts are the ones that have had a lot of thought put into them, and so, why not treat your loved one to a tasty feast of hog meat with all the trimmings? Or, better still – gift them the means to cook one themselves?!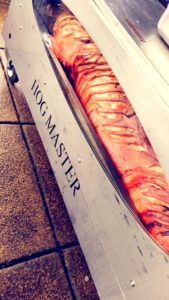 You see, when it comes to birthdays, you can always rely on Hog Roast Richmond to impress with our winning flavour combinations and striking serving styles. But beyond our wholesome menu items and energised customer service, we can also offer our customers and clients the chance to purchase the very machines we rely on every day to produce those authentic spit roasts from which we coined our name.
Made right here in our UK factory, our cooking machinery has revolutionised the way we spit roast, not just pigs, but all kinds of delicious meats and instead of keeping this innovative equipment to ourselves, Hog Roast Richmond has chosen to share it with the people who matter to us the most: our customers. With a large range of devices, add ons and accessories to choose from, you are sure to find something that matches your cooking needs to a T.
Hog Roast Richmond has saved the day on many occasions, both by providing a fully catered for service and also by delivering our top-quality machines to eager clients. Most recently, Farrah had placed a call asking us for the latter.
With her father, William's 60th birthday on the horizon, the whole family had decided to spoil him by all chipping in for a HogMaster machine, and since he is always looking for new ways to cook this seemed like the ideal gift.
Our team dropped off the equipment over the weekend, along with a package of fresh produce to get him started on his hog roasting journey. William loves his gift, and Farrah was over the moon with how smooth the transaction had been.