Are you a successful event caterer, a pub or butchers wanting to offer something different or someone hoping to start up their own Hog Roast business? Then why not purchase a machine from us, the UK's leading manufacturer of high quality hog roast machines: Hog Roast Reeth. To begin with, we would recommend the Hog Master machine which has been exclusively designed and tested by our own hog roasting and catering experts. It is capable of feeing a large number of people whether that's for a private celebration, corporate lunch, wedding reception or trade show.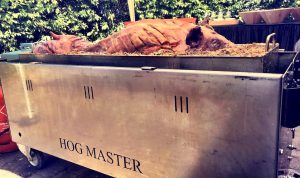 It is completely effortless to use and easy to manoeuvre. If you purchase the Hog Master you will receive the machine, a cooking/serving tray and serving bars. The pig will lay in a tray that will be lowered into the machine to cook. Light the machine and pop the lid down for tender pork and crispy crackling every time. When the pig is cooked and you are ready to serve, the bars slip under the tray to hold it up making it easier to carve and allowing your customer and their guests to see the pig.
Similar to the Hog Master, the Hog Master Glass is the same shaped machine but with an oval glass panel at the front allowing your customer and guests to see the pig cooking away in the machine. Like the Hog Master, the Hog Master Glass is easy to use.
With either of these machines, whether you are an experienced chef or a beginner, the result of a deliciously roasted pig and amazingly crispy crackling is guaranteed every time.
All machines come with 12 month gas certificate and once the year is up you can request a gas inspection from the factory where the machines are created to keep you going for the next 12 months.
Hog Roast Reeth likes using these machines because they look smart, are simple to use, easy to put into a mode of transport whether that's a van or trailer, and provide tender pork and perfect crackling for their guests to indulge.
If you would like to have a look before you buy come and have a look in our showroom in Lancashire where the Hog Roast Reeth team would be happy to help and offer advice.