If you're looking for a hog roast machine to hire, look no further! We're renowned for our fantastic catering services, but we also sell and hire out our own machines that we designed ourselves. Engineered to the highest quality, CE-approved and complying fully with official regulations, our hand-built hog roast machines can help to make your event or party a great success. Not only are they are much easier to use than you may think, but they are also easy to move if needed, and run on gas rather than mains electric, so you can celebrate an occasion pretty much anywhere you like.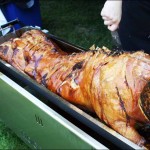 When Donald called us asking about rental services, he was surprised to learn that we deliver the machine to you and show you how to use it, and collect it from you later, too. The price includes this and a gas bottle, and we can also provide the pig (or another animal) if preferred, from one of our trusted local suppliers.
Donald needed one of our smaller machines to cook a hog for around 20 guests, and asked us to supply the meat. While we would be dropping the machine off at his home for a few days, he wasn't yet sure where he would be cooking, so he was even more pleased when we told him how easily you can move the machine.
I delivered the hog roast machine to Donald at home last week, for a week-long rental. He was impressed with the simple instructions and had thought it would have been much more complicated, or at least that he would have had more to do when cooking a hog. The most time-consuming part is preparing the meat for its roasting, and then you can sit back while the machine does all the work for you (though you do need to continually check that it's on track).
When I collected the machine from Donald, he'd had such a successful hog roast with friends and family at home, that he had also taken advantage of the machine's portability and cooked a spit roast at a friend's house and had another hog roast in a local park over the weekend, with meat he had sourced himself. We think he's hooked!