It's always a joy to have a customer of ours want to purchase one of our machines after trying their own DIY hog or spit roast. We're proud of our machines, which we make from scratch in our own factory and have perfected over many years, so when someone tries one and loves using it, and then wants to buy one for their catering business or even to use at home, it truly makes us happy chappies.
One of our repeat customers, Phillip, is a professional caterer who has often hired one of our machines to cook up a feast for his clients but also sometimes to just cook for his family at home. While you may think it's only professionals who will buy a machine, we actually have a long list of customers who have bought them for domestic use, as you can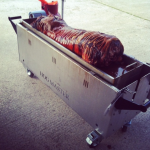 cook an entire meal in one go; your chunk of meat roasts away at the top of the machine while your vegetables and potatoes cook beneath! You can actually save money in the long-term by ditching oven cooking and using one of our machines, which acts like a conventional oven and runs off gas bottles.
Phillip popped into our factory yesterday to have a look around and to see machines being built in front of him, as well as to have a chat with our staff about what goes into making them. We talked his ear off about our range of hog roasting machines, and the history of our most famous HogMaster, and then once the factory tour was over, Phillip checked out our full range of models and accessory kits. He also discussed purchasing options, as we can offer finance. Buying your own machine is a big decision, as it's a big investment, and although in the long run you can certainly save money, we know it can often help to offer our customers various possibilities.
Phillip was eager to buy his own ultimate hog roast machine that day – the mighty HogMaster! We look forward to hearing how his catering business changes for the better, now he has own fantastic equipment.