If you're looking to rent a hog roast machine, look no more, as we have our own full range of top-class equipment. With our roasting machine hire service, you can cook a hog yourself (we can supply the hog from one of our trusted suppliers or you can provide your own) and we even provide a delivery and collection service.
One of the most important factors when having a DIY hog roast is being comfortable with the equipment itself, and that's where we also excel. Having built and perfected our own hog roasting machines for many years now, we are confident not only in the abilities of our appliances but also in our staff's abilities to show you how to work them and how to prepare your meat for cooking.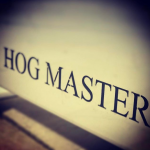 Our machines are actually very simple to use and people are often surprised at this, just like wedding caterer James who hired one of our trusty, best-selling HogMaster Glass machines over the weekend. James normally caters events with hot and cold buffets but he had been asked to provide a hog roast for some of his customers. While he is not new to the art of hog roasting, as he has hired machines in the past for family occasions, this would be the first time renting one of ours.
I had the pleasure of meeting James on Friday and showing him how to use the HogMaster. While we can always provide a pig or other animal from one of our faithful suppliers when you rent with us. James is friends with a local farmer and had already had his beast of a hog delivered by the time I got there. He has always loved to produce pulled pork when roasting his own, which he was also planning on doing for his clients' wedding that Saturday. It took me no time at all to show James how easy it is to cook with a HogMaster, with him already having past experience.
When I collected the machine on Monday, James had loved catering the wedding with a hog roast so much that he is now considering purchasing his own machine from us to use more often for his business.