A hog or spit roast feast is a fantastic talking point that your guests will be bringing up for a long time to come. The taste, smells and sheer spectacle of this kind of cooking all combine to give you a one-of-a-kind experience at your wedding, birthday party, corporate hospitality gig or any other kind of celebration or event that you can think up. Mark, one of our repeat customers, knows this all too well, as we have now catered for him both at home and work and he has hired one of our machines to do his own DIY roast on more than one occasion, too.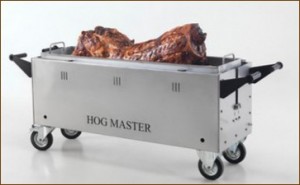 This time, however, Mark came into our showroom and factory in the north west of England to browse the hand-built hog roast machines that we make ourselves (we designed them, too!) as he was now thinking about purchasing one for his own use at home. The Hog Master is the most famous brand of hog roast machines in this country and we have an extensive product range to suit different requirements and budgets. If you're a professional caterer, one of our machines can be a very wise investment for your business in the long-run. These days, hog roasts and spit roasts are more popular than ever, whether you're cooking for a large wedding at a 5-star hotel or for a small birthday party in your customer's back garden.
Nevertheless, domestic caterers often choose to buy one of our machines for home-use, as it can save you money and you can beat stress by cooking your whole dinner in one go (as you can cook your choice of meat above and the veg and potatoes at the same time below). You may not know this, but you can actually cook all kinds of meats in a hog roast machine – not just pig! You can use it to roast a whole lamb or beef joint, barbecue burgers and sausages and you can add the spit roast attachment so that you can dazzle your guests with a rotating chicken or turkey.
As Mark already knows how easy it is to use our equipment, he didn't take long in choosing his hog roast machine to take home this time but vowed to still use our catering services in the future, too.