With your own hog roasting machine, you can cook up a storm for all kinds of parties and events, or even just whip up a tasty homemade meal for the whole family. Whether you're a professional caterer who provides tasty food for various special occasions or you're a domestic cook who has seen the need for this type of cooking at home, Hog Roast Liverpool can help you to choose the right hog roaster for your needs and once you've tried cooking this way, you'll never look back.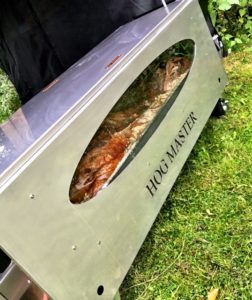 We often sell our equipment to expert wedding and events caterers, who like Hog Roast Liverpool cook delicious dishes using our trusty machines and not just the hog roasts that we're famous for. You can use them to cook spit-roasted meat, barbecue meat, or even cook plenty of vegetables and potatoes inside at the same time and if you fancy, you can even use them to cook pizzas! We designed our hog roasters to be used like conventional ovens, so whatever you'd normally cook in your home oven, you can cook inside one of our amazing creations, but it works out cheaper and is easier and faster.
We welcome our customers to have a look around our factory and talk to our professionals about the machine that would be best suited to your requirements. Then you can visit our showroom to see our current range of both new and used machines to find the one that will be perfect for you, whether you're a pro or you'll be using it to cook at home. You don't need to book an appointment with Hog Roast Liverpool to visit us – just turn up and we'll be glad to talk you through everything you need.
One of our new customers recently came to see us for the first time and was surprised to be able to watch one of our hog roast machines being built by hand from scratch in our factory. By the end of the visit, he went home armed with one of our most popular machines, the Titan, and he couldn't wait to try it out.