Investing in a Hogmaster is a great way to expand and build your business, especially as we prepare for a busy summer season this year! Take it from us at hog Roast Etwall- a hog roast makes a great addition to any party, barbeque, corporate event or festival, and being able to roast a hog yourself guarantees more catering bookings for the future. When looking for a hog roasting machine, a Hogmaster is a great place to start!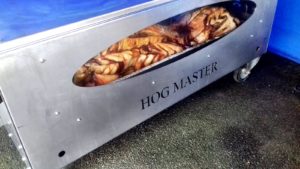 The Hogmaster allows you to roast a pig effortlessly: simply put it in, close the lid and its ready to cook. Once the hog is ready to eat, simply open the machine to find a perfectly roasted pig already in the serving position. The spit roast addition of the Hogmaster allows your guests to see the hog rotating, which is a great way to get your guests' mouths watering and ready to eat! Here at Hog Roast Etwall we know how exciting guests get when they can see their food being prepared right in front of them, and the Hogmaster is perfect for this!
If you're going to be cooking more than just pigs, the Hogmaster is still a great option. There are multiple attachments which makes cooking a dream. You can add a BBQ kit, which allows you to barbeque food on top of the machine, while your hog cooks underneath! There is also the option of adding a preparation/serving table, using the lid of your machine. This makes life so much easier when you are catering for a large group, or when preparing multiple meals at the same time. For example, you can prepare your bread rolls and salad on the side whilst your pig roasts effortlessly.
At Hog Roast Etwall we know the importance of having a good machine that meets your needs. There are many different machines to choose from, so is necessary to do your research before purchasing. We are happy to offer our expert advice on which machine is right for you- simply get in touch via our enquiry form!