While Hog Roast Wickford is renowned for first-class catering, you may also know us for hiring out equipment so you can DIY, but did you know that we actually make those top-quality, stainless steel hog roast machines and sell them too? We hand-build our hog roasters from scratch in our Lancashire factory, using the finest materials, and we have a showroom where you can browse our range in person and you can even tour our factory, see a machine being built and chat with our professionals about the best machine for your needs, either a new or used one, whether you're a professional caterer like ourselves or a domestic cook who knows that cooking in this way can often save time, money and effort.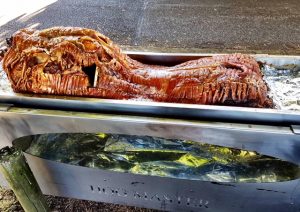 Our range of Hog Roast Wickford machines work hard so that you don't have to, and we designed them to be extremely simple to use, lightweight and easily moved around, so that your life is made much easier when you're using one. From a smaller machine to one of our largest ones, whatever your catering needs, a hog roast machine could well be the answer you've been looking for, as they work like conventional ovens so you can cook much more than a sumptuous hog roast in one if needed. From perfectly spit-roasted birds and animals or barbecued meat, as well as perfect vegetables and potatoes that cook inside while the meat is sizzling away, you can use our machines to cook an entire meal in one go.
We welcome walk-ins to our factory and showroom, so you don't need to make an appointment with Hog Roast Wickford in order to visit us, and when our customer Russell came to see us recently, he made sure to take full advantage of it. After watching in awe as one of our Titans was built in front of his eyes, he was glad to talk to our experts about his needs, and as he is an events caterer himself, he knew he would benefit from our experience and expertise. A trip to our showroom finished off Russell's day nicely, and he left armed with a Titan like he had seen being built, but a used machine that was perfect for what he needed and with the same excellent capabilities as a brand new one.