You'll certainly know Hog Roast Fowey as a hard-working catering company, where we provide top-rated food at an unbeatable price while ensuring excellent service each and every time. You may also know Hog Roast Fowey for our hog roaster rentals, where one of our experts shows you how to cook in this fantastic way with one of our trusty stainless steel machines. Nevertheless, did you know that we designed these world-class machines ourselves and we sell them to businesses and individuals all around the world?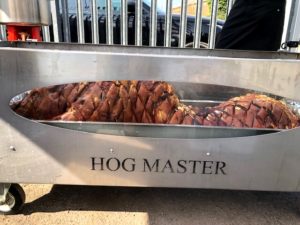 In our Lancashire factory, our hog roasting machines are hand-built from scratch using the finest materials and by adhering to the strictest safety standards, and they are the same ones that Hog Roast Fowey use when catering to the masses. We sell both new and used models in our showroom, and the latter have the same excellent capabilities as our brand new ones, but as they are refurbished, they come with a lower price tag. We even sell other brands in our showroom, just in case one of ours isn't best suited to your needs.
Whether you're a pro chef like us or a domestic cook who has realised that cooking with a hog roast machine (instead of your kitchen oven) can save time, effort and money, we welcome walk-ins for a tour of our factory and to browse our showroom, and you can watch one of our machines being built, chat to our professionals and check out our range of equipment to find out which would be best for you.
Built by chefs for chefs, one of our range of hog roasters really could be the perfect choice for you, especially as they work just like normal ovens, so you can cook the same food inside one as you would with your regular one – even pizza, let alone vegetables and potatoes while your meat is cooking away above.
Our new customer Leigh came to see us on Friday and after enjoying his factory visit, he found the used machine of his dreams in our showroom and left with a huge smile on his face and even change in his wallet. We look forward to finding out how Leigh gets on with his Titan, which he will be using to cater events around the country.