If you would like to hire a Hog Roast Machine, or you are thinking about buying one of your own, we would like to let you know just how much this piece of equipment could transform and diversify the catering that you offer. Not only will you be able to prepare amazing hog roasts for any number of people, you can also opt for a model that offers the flexibility to prepare other dishes too. Our machines are an all in one mobile kitchen on wheels, enabling you to cook up a storm in any setting, and prepare a whole variety of different dishes if you want to.
If you don't already know a lot about our Hog Roast Machines, here is a quick overview of how versatile and multifunctional they are:
Quality catering for a large crowd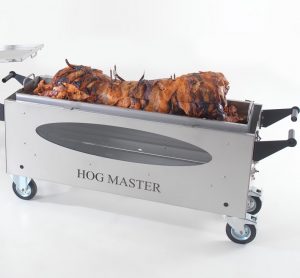 If you are a sole operator or you have a very small team, one of our robust hog roasters will enable you to cook for hundreds of people in one go. Some of our machines have the capacity to cook two whole pigs at once, so that you can keep churning out plate after plate of hot hog roast sandwiches for your hungry diners. Our hog roasters can also be used to cook other large joints of meat, and we offer a rotisserie attachment for roasting lots of whole chickens in one go too.
Hot sides and spuds galore
Whilst the hog  is cooking, your machine can be busy doing lots of other things at the same. You can use our hog roaster to prepare a whole host of hot side dishes, including vegetable skewers and jacket potatoes, so that you can offer complete meals on the go for any number of people.
Summer BBQs
If you want to rustle up some sizzling summer classics for a beer garden crowd, festival -goers or an outdoor wedding, Hog Roast Machines' BBQ attachment will allow you to prepare flame-grilled favourites served hot and smoky for your diners to enjoy.
Whether you want a hog roaster solely for its main purpose or you would like the flexibility to prepare other types of food too, Hog Roast Machines have the ideal machine for all your catering needs.