Call us biased, but here at Hog Roast Machine we simply cannot imagine doing any other type of catering. The freedom, flexibility and fantastic food that comes with being a hog roast caterer simply can't be matched in our opinion! It isn't just us who feel that way – we have plenty of very satisfied customers who have bought hog roast machines from us, who feel like it has changed their lives and businesses for the better.
Based on feedback from our clients, we have compiled the top 4 advantages of owning a Hog Roast machine:
Reliability and durability
Our machines have the robustness to perform at full capacity in any environment. Even our larger models can be easily transported in a catering van, and quickly set up and wheeled into position so you can cater where your clients want you to. Our machines can also prepare a high volume of food day after day without ever letting you down
Fully flexible catering abilities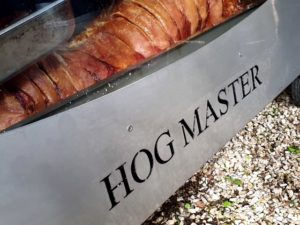 You can wow your guests with perfectly cooked hog roasts for any type of outdoor event, as well as being able to offer them a range of side dishes, different meats, whole roasted chickens, veggie skewers or BBQ food too for example. You can provide well rounded menus and hot food using just one piece of mobile catering equipment.
Quality catering for any number of people
A hog roast goes a long way, and it is the ideal way of feeding a large crowd without compromising on quality. The consistency of our machines enables you to produce plate after plate of melt in the mouth hog roasts for hungry festival crowds and smaller garden parties alike.
Customer support, warranty and servicing
We will provide any added extras you need and give you comprehensive customer support to ensure you get the best out of your equipment. We are always just a phone call away should you have any queries. We also offer a 12-month warranty on our machines, and we can regularly service it for you to keep your Hog Roast machine in tiptop condition.