Here at Hog Roast Preston, we are delighted to see that the increasing popularity of hog roasts is leading to more and more people who work in the catering and hospitality industries to invest in their own machines so that they can treat their guests to a delicious and traditional cooking technique on their own premises. Andy, Head Chef of a local hotel, had been given the green light to do exactly that, and when he got in touch with us, he was excited at the prospect of adopting a cooking technique he had not used in his kitchen before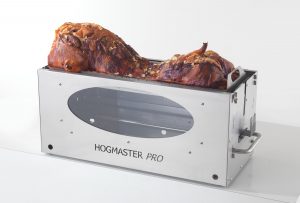 but was also concerned about how much space a hog roast machine would occupy in his already busy kitchen. What he wanted from his new piece of equipment was the ability to provide melt-in-the-mouth pork for his diners without the process taking up too much time and attention away from his staff's other food prep duties. He also wanted a machine that was as compact as possible without being too limited in the capacity of food it could provide, as well as having the option to use it outdoors in warmer weather in front of his guests, and indoors during the winter months.
After explaining his list of requirements, Andy was worried that he may be asking too much to expect all of this from just one piece of equipment, but the Hog Roast Preston team were quick to inform him that he could have all of this and more if he bought one of our Hogmaster Pro machines! Although it is compact enough to fit comfortably in any commercial food prep space our outdoor cooking area, the Hogmaster Pro still has the capacity to cook a 35kg pig with ease! Andy was immediately intrigued, and even more so when we told him that it comes with the option of different accessories, which would enable him to prepare a range of other foods too, including classic barbecue-style dishes.
Suffice it to say, Andy was extremely happy with the Hogmaster Pro and when he got back in touch with Hog Roast Preston after buying it, he told us that it had very quickly become an indispensable addition to his hotel kitchen, and it was loved by his team and their diners alike!