If you're a professional caterer who's looking for your own hog roast machine to own, as you've realised the need for this amazing type of cooking in your particular area, look no further than Hog Roast Preston. While you may well know us as expert caterers ourselves, we also train people, hire out hog roast machines and sell them, and we even have our own brand. We make our own machines from scratch in our Lancashire factory, which we have on show on in our showroom alongside models and other brands, as we want our customers to choose the one that suits their needs, even if it's not one of our trusty machines.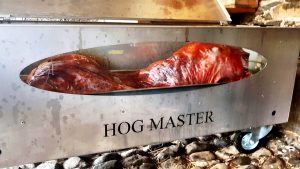 Nevertheless, even if you're a domestic cook who's thinking about owning your own machine to use at home or to transport to friends and family to use there too, contact Hog Roast Preston to find out more about our machine sales. We welcome you to take a tour of our factory, to speak to our professionals and see machines being hand-built, before going on to take a look at our stock in the showroom, where we can help you to choose the machine that's exactly right for you.
We often have repeat customers, who sometimes trade in their old machines for newer or used ones or who buy brand-new ones instead, and one of our long-term customers, an events caterer, had a collection of five of our own brand. However, he let Hog Roast Preston know that he would be making a visit to the showroom because he was thinking of now buying our machine, the Hogmaster.
After chatting to our experts and deciding between a used and new Hogmaster, our customer left armed with a new one and he said he couldn't wait to try it out.
You don't actually need to let us know that you're visiting our factory or showroom, you are always welcome to just turn up. We look forward to seeing you soon!