You'll no doubt know Hog Roast Malahide as providers of top-class catering, where our talented and highly experienced chefs prepare, cook and serve delicious food for all kinds of parties and events. You may well also know us for our hog roast machine hire, where we rent out our trusty equipment so that you can DIY and cook a stunning hog or spit roast for your guests at your choice of venue. But did you know that we make our own hog roasters by hand at our factory in Lancashire? They're the ones we hire out to our customers but they're also ones that we sell to both professional and domestic cooks too.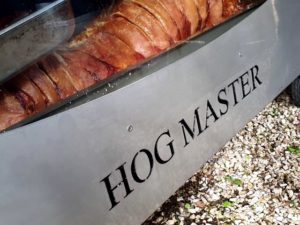 Whether you're a pro caterer who uses Hog Roast Malahide hog roast machines to cook for your own customers and their guests or you're a domestic cook who recognises that they're a great way to cook at home, to save you time, effort and money, buying your own machine can be a great idea. In our showroom, we don't only sell our own brand, however, as we often have plenty of others available, as we want our customers to choose the right one for their particular wants and needs, even if that isn't one of ours.
Nevertheless, our machines are highly popular all over the world and for many reasons. They're lightweight, easily manoeuvred and durable, so not only will they last a long time but you can take yours with you to all kinds of venues and the fact that they run on gas means that you can take them pretty much anywhere you can think of, as you don't need mains electric to cook.
One of our long-term Hog Roast Malahide customers recently came to see us at our factory, to talk to our experts about adding a machine to his collection. He already has two of our smaller machines but decided he needed our biggest, the mighty Platinum, which can easily cook two pigs, four legs of pork and two hundred jacket potatoes at the same time. At the end of the visit, he went home armed with a reconditioned Platinum and a big smile on his face.