Not many of our customers at Hog Roast Telford are aware that we actually hire out our trusty hog roast machines to clients for their own private use. We believe that the art of hog roasting is something that anyone, with the right equipment and of course the best quality ingredients, can master. This is where our machines come in. Designed and built by Hog Roast Telford in our own factory, we really are experts in hog roasting and know that a large part of achieving a perfect roast is down to the equipment you use.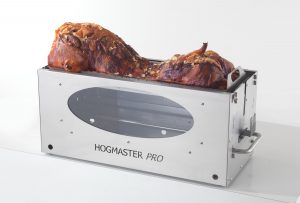 This weekend David booked in to hire our Hogmaster Pro. The Hogmaster Pro is one of our smaller machines but just as powerful and perfect for cooking in the home for a couple of guests. Before delivering the machine, we invited David to our factory to see the machine in person and give him a crash course in its use. As a hog roast lover David already knew exactly what he was getting into but to be on the safe side we like to give everyone the same instructions and advice should there be any issues – however this is unlikely as our machines really are the best in the business!
We delivered David's machine and brought along a small hog for him to roast as well which he greatly appreciated. And then we left him to it!
Five days later we were back at David's house to pick up the machine and find out how David's DIY Hog Roast Telford had gone. We were thrilled to hear that it had gone off without a hitch and all of his guests were in love with the food. It is safe to say David has now got the hog roasting bug as he has booked in to hire another machine next month!