If you've enjoyed one of our delicious hog roasts in the past and it made you want to have a go at cooking one yourself, you can rent excellent equipment from Hog Roast Darlton in order to do so. It's the same top-notch equipment that we use ourselves when catering (and we even make them ourselves in our Lancashire factory) and which ensures tender, moist meat and crispy, crunchy crackling each and every time, so that you can wow the guests at your next party or event.
You may be a professional caterer yourself who's seen a gap in the market for hog roasts but if you're also thinking about cooking spit-roasted or barbecued meat, know that amazing Hog Roast Darlton machines come with attachments that can do just that if needed too. You could cook up a storm with gorgeous spit-roasted chicken, turkey, lamb or beef one day, a tasty traditional barbecue of sausages and burgers the next, and then a sumptuous hog roast on another day. It's all up to you!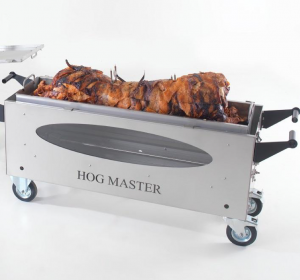 Not only that but the insides of our machines work just like normal ovens do, so if you want to cook seasonal vegetables and potatoes at the same time as roasting your meat, you can, and with absolute ease – meaning you can serve up an entire meal to your customers that you've cooked all in one go, which can save you so much time and effort. The fact that you can use the inside like a conventional oven also means that you could cook something completely different instead if you need, like a couple of pizzas, so they're really incredibly versatile.
Hiring with us is so much more than just receiving a machine, as we include both drop-off at your venue and collection afterward, as well as the expertise and knowledge of one of our chefs, who will walk you through the entire process of cooking with our equipment and getting the best out of it, regardless of the food you want to cook with it. For all your rental needs, get in touch with Hog Roast Darlton and we'll get you booked in.