One of our repeat customers here at Hogmaster hog roast machines has recently taken over an event catering business, so he booked an appointment with us to see our factory and showroom. We manufacture our own hog roasting machines and love to show prospective buyers around. If you're a professional caterer or chef (or even if you're a domestic god or goddess who wants to expand into this way of cooking at home) you can see how one of our machines is made from scratch, chat to our design team and find out about the skills of our factory workers and engineers (as they love to show off!)
In our showroom, we can then walk you through all the different models that we make Hogmaster, Hogmaster Glass, Hogmaster Pro and discuss purchasing choices for a machine of your own. We can offer finance options and sometimes we have special offers available.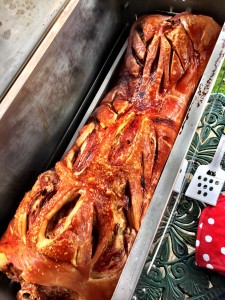 As this customer has already enjoyed our catering services and even hired one of our machines from us in the past, he already knew much about us and knew he wanted one of ours. We are now one of this country's most well-known hog roasting companies and we make machines that are sturdy, reliable and safe, and they are a cost-effective form of cooking. Even if you're cooking from home with one, you can save money over the long-term by using one of our machines to cook an entire meal in one fell swoop – the meat roasting above while the potatoes and vegetables cook below. Plus it doesn't have to be pork meat – you can use a hog roast machine to cook many different kinds of meat actually, from beef to lamb to chicken. Our machines are so versatile that you'll wonder how you ever coped before, with a traditional cooker!
Once we showed this customer around the showroom, he decided that the machine he had hired from us would be the one he wanted to buy. In fact, this was also the machine that we used when we catered for his events – the HogMaster, a very popular choice with professionals. Why not book an appointment to see our factory, too, and see for yourself the wonders of a hog roast machine.