If you've ever fancied being a chef, it's likely you've thought about barbecuing or roasting meat outdoors, or maybe you often do already, especially in the summer months. By hiring one of our hog roast machines, however, you can take the credit for all the hard work that the machine does for you (and nobody else has to know!)
Our machines are hand-built in our Lancashire factory, and we designed them to be versatile, simple to use and easily transported. When it comes to versatility, you may not believe how many different foods we can cook using our equipment. You can cook an entire meal in one go, with a hog roasting away at the top of the machine and the potatoes and vegetables inside. If you prefer to spit-roast a different animal or some poultry, you can use the attachments to do so, or you can use the barbecue attachments to cook your own burgers and sausages if you prefer. Fancy a pizza? Our machines act like conventional ovens so you can pretty much cook what you want in there!
When Becky called us to ask us about our machine hire, we told her all of this and she was very surprised. We also let her know that even though they're easy to use, we always walk our customers through how to use them when we drop off the machine at your venue and she was even more surprised to hear that we include a delivery and collection service when you rent one of our machines. When we told her about how portable they are, as they're lighter than you might think and run on gas so you can use them just about anywhere, she was sold. In fact, she said she was already sold when she learned what she could cook on them and that people often buy them from us to replace their kitchen ovens!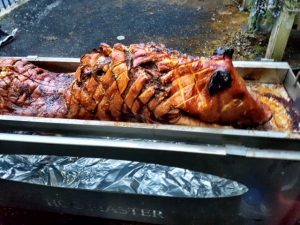 I had the pleasure of delivering a machine and a small hog to Becky at the weekend, as she wanted to cook for her boyfriend's birthday. When I went to collect the machine, Becky wanted some more information about purchasing one herself to use at home, and I took that to mean that she loved hiring one and roasting her own hog.