We've just had some great feedback from David, who recently made the wise decision to purchase one of our state of the art Hogmaster machines. He runs a mobile catering company and is always on the lookout for ways to stand out from the crowd and give himself an edge over his competitors. As David agrees, investing in a Hogmaster has definitely helped him to achieve this.
David was looking for a new method of cooking his meat dishes that was practical, versatile and would allow him to prepare large quantities of food in one go without compromising on flavour or quality. He also wanted to make the process and presentation more of a focal point, something to get his clients talking about- hopefully to other potential clients about how great it was!
When David approached us for help, he told us he had been thinking about investing in a hog roast machine for quite a while, but all of the ones he had looked at were heavy and cumbersome and would have been difficult to transport to the various venues he catered for.
Luckily for David, all of his prayers were answered when we introduced him to our innovative Hogmaster model: the capacity to slow roast a 75 kilo pig to perfection whilst being compact enough to easily fit into David's catering van. The durable frame and sturdy handles allow for safe and easy transport to any location, without compromising on the volume or quality of the food that can be prepared.
As an added bonus for David, who was looking for an excuse to unleash his inner showman, the Hogmaster comes with a glass panel at the front, allowing the dinner guests to view the cooking process and get their mouths watering.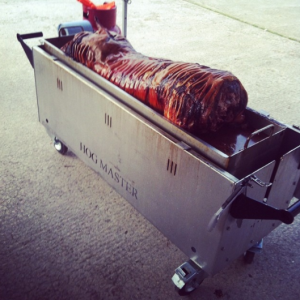 David's maiden voyage with his new Hogmaster machine went without a hitch; he found it remarkably easy to move it in and out of his van and to set up at the venue without struggling for space or worse still, putting his back out. The execution of his first hog roast, more than lived up to his clients' expectations, all of whom, David noticed, had been transfixed by the cooking process as they watched the pork grow more and more succulent by the minute. Since then, the orders have been flooding in for his catering services and he can't thank us enough. You're very welcome David, we're delighted that you've joined the Hogmaster Club!