Hog Roast Largs are well known across the UK as professional caterers for any and all events. Our flexible cooking style is all down to the trusty machines that we cook our roasts from. Coming in various shapes and sizes there is a Hog Roast Largs machine for every occasion. With the addition of our different attachments such as dual roasting trays, spit roasting attachment and BBQ attachment the possibilities are truly endless as to what we can provide for you and your guests.
What many people don't realise however is that as a company we also hire out and sell our machines to the public. Anyone is welcome to visit our showroom and factory in the north west to get a glimpse of what hog roast catering is really like.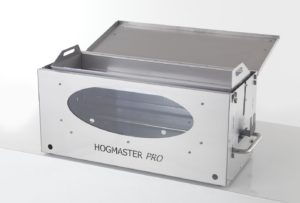 This week we had a call from Alan who enquired about the possibility of hiring one of our classic machines, the Hogmaster Pro. Details of this machine can be found on our website but in brief the Hogmaster Pro is the adapted version of our original machine the Hogmaster. The difference is the Hogmaster Pros compact size and ease of manoeuvrability. This machine is ideal for the novice caterer or someone who wants a smaller machine to cater for their family and friends. It is not too big to be intimating yet can still more than pack a punch in terms of catering output.
As always, we invited Alan to visit us at our factory where he could get a hands-on experience of the Hogmaster Pro before deciding whether or not to go ahead with hiring it. Unfortunately, being from down south Alan couldn't afford to spend a day travelling up to us due to his busy work schedule so instead we arranged for our local Hog Roast Largs team to pop round and give him a visit to demonstrate our machines to him.
We can't wait to hear how you got on Alan!