Looking to try something new? If you enjoy cooking or even if you have never cooked before a Hog Roast Batley machine could be for you! Our durable and easy to use machines mean that cooking a roast has never been easier as the machine takes care of all the hard work for you! Visit our showroom in the north-west and see for yourself!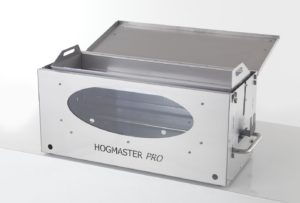 Francis enquired recently about purchasing one of our Hog Roast Batley machines. He told us over the phone that he wanted to try something new and growing up he had always loved watching his dad, Lucas, cook but it was never something he was personally good at. Francis informed us that sadly his father had passed away a year ago and he had decided he wanted to do something in his honour and that thing was going to be learning how to cook! Having already mastered cooking pasta and beans on toast he decided it was time he takes on a challenge and thought buying a Hog Roast Batley machine would be the push he needed to motivate him to get into cooking.
Whilst visiting our showroom, Francis fell in love with the Hogmaster Pro. This is our smallest machines and perfect for the amateur caterer as it is not so big that it's difficult to use and yet big enough to be able to cook to impress. Our Hog Roast Batley team gave Francis a demo of how the Hogmaster Pro is used as well as teaching him a couple of recipes to get him started. What's more, is we put him in touch with a couple of local suppliers so he would have no excuse not to get started right way!
Good luck Francis and remember the Hog Roast Batley team are only ever a phone call away should you need any culinary advice!