With your very own Hog Roast Winchester hog roaster, you can be cooking up a storm for your own customers, just like we do, making gorgeous homemade food each and every time. It may surprise you to find out that you can cook so much more with one of our models too, which we designed ourselves and build by hand in our Lancashire factory, as we developed them to work just like normal ovens, so you can rustle up all kinds of food inside while your meat is sizzling to perfection above. Not only that but despite the name, they don't only cook hog roasts! They're so incredibly versatile that with our attachments, you can spit roast or barbecue your choice of meat instead if needed.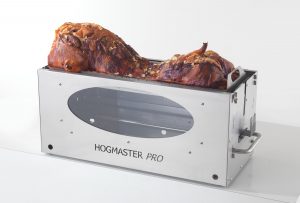 There's no need to book an appointment with Hog Roast Winchester to visit our showroom, as we welcome walk-ins, and you're also welcome to tour our factory and see one of our top-quality, stainless steel range being made from scratch. If you're new to this way of cooking or thinking about purchasing your first-ever hog roast machine, you can talk to our experts in person and they can help you decide on the equipment that's right for your needs.
We have several models available, ranging from a smaller machine to a great beast of one, each with its own advantages, and as well as selling brand new machines of our own, we also sell used ones at a fraction of a price but with the same excellent capabilities. A second hand machine comes complete with a 12-month warranty and a 12-month gas check certificate, so there's no need to worry. Plus if a machine made by one of our competitors is better for your requirements, whether you're a professional caterer or you're thinking of using one at home in place of your oven, we'll let you know, as we also sell equipment made by other companies.
Contact Hog Roast Winchester today or pop by our showroom and factory and take the first step to owning your own machine and we'll help you every step of the way!