Summer is nearly upon us, which means it's almost that time of year again when you get to kick back and relax in the garden with a well-deserved barbeque!
But if you don't own a grill yet or are looking to replace one that's seen better days, then stay tuned because we're about to tell you why you should consider spending your money on a machine from Hog Roast Machine instead of a bog-standard grill.
1) Unbeatable Quality
With a reputation for being the world's leading hog roast machine manufacturer, we know what it takes to make a great grill, and for close to 30 years now, our teams have worked hard to create products that stand out from our competitors.
Using the highest quality materials, including stainless steel, for easy maintenance, we are proud to have developed a range of truly exceptional machines that are guaranteed to stand the test of time. And because we're so confident in the quality of our products, our professional caterers use them for carrying out all of our bookings.
2) Flawless Design
In addition to being super easy to clean and maintain, Hog Roast Machine has also made sure that our machines are lightweight for convenient transportation. They also have sturdy wheels, making them incredibly effortless to move around.
What might surprise you more, however, is just how compact our kit is. Each machine was designed with easy storage in mind, which means when it's not in use, you can pack it away with ease.
3) Versatile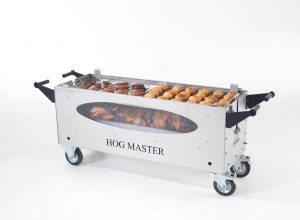 You can visit our online shop or take a wander around our showroom to see for yourself just how many different machine styles we have on offer. And whilst each one has been designed with a specific purpose in mind, one thing all of our grills have in common is that they are incredibly versatile.
What we mean by this, is that you aren't restricted to roasting hogs when using our products. You will be able to cook up a mean barbeque, roast vegetables, prepare side dishes and so much more, with minimal effort!
4) Customisable
To help make the cooking process even easier for you, Hog Roast Machine offers a wide range of add-ons and accessories, which are ideal for personalising your experience. These include things like BBQ attachments to help cook the perfect burgers, sausages, kebabs, steaks and even fish.
5) Flexible Purchase Options
Finally, Hog Roast Machine offers flexible payment options as well as a 'try before you buy' scheme, which allows you to fully test the product before you commit.