If you're planning a party of your own and you're contemplating cooking the food yourself, a centre piece hog roast will impress your guests, tickle their taste buds and satisfy their hunger as well. We rent out the same hog roast machines that we use ourselves to cater parties and events and you may be surprised to find out that we designed them and we build them in our Lancashire factory. Using our easy-to-use-equipment, you can cook up a storm in your own back garden or other choice of venue and you can take all the credit for all the hard work the machine does for you.
Hog Roast Bedford recently got a call from Jim, one of our corporate customers who wanted to hire one of our machines for a private party. While we have often catered his business events, Jim wanted to try out cooking a hog roast all by himself to celebrate his and his wife's wedding anniversary together with close family members. You won't believe how simple it is to cook a tasty hog using one of our machines, as you just prepare the meat, set the machine going and keep an eye on it over the next few hours.
Last weekend, I took along one of our hog roast machines to Jim's home, together with a small hog for him to cook. We can always supply the meat if you need when you rent our equipment, as we understand that it may not be easy to find high-quality, locally-sourced meat that will taste amazing, especially if it's your first time hog-roasting, like this time with Jim. I showed him how to use the machine and answered all of his questions, and even though he had seen us prepare the meat many times before, he asked me to go through that process with him too. Once he felt comfortable, I left Jim to it, with detailed instructions for him to refer back to, just in case.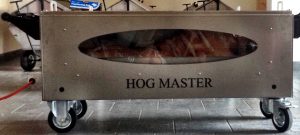 When I collected the machine on Monday, Jim said he was now hooked on cooking his own, and that he's thinking of hiring a machine again to roast a hog for his next corporate event too, rather than Hog Roast Bedford catering for him!