Did you know that with one call to Hog Roast Machine, you can make an appointment to visit our Lancashire-based showroom and factory, and you can even see one of our trusty stainless steel machines being made by hand? We're proud to make our own equipment and we love to show our handiwork off, so if you're thinking of buying your own machine, come and speak to our experts in person and we can help you to decide on the best one for your particular needs.
Whether you're a large event or wedding caterer or you only cook food for smaller parties, we have a machine to suit you. We have several models available, both new and used, and our Hogmaster Pro is one that's suited for all kinds of smaller-scale uses, including home-use (as many of our customers are domestic cooks who have seen the need to have one at home), and many others also use this machine to cook in restaurants, pubs, hotels and more. Our motto with this hog roaster is 'small enough to manage, big enough to deliver' and it's lightweight, easy to move around and extremely easy to use, so it's suitable for anyone to cook with.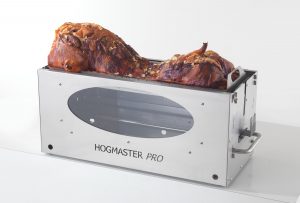 Like all of our machines, the Hog Roast Machine Hogmaster Pro runs on gas, so you can cater anywhere you can think of, and it's also incredibly versatile, as you can cook other food inside at the same time as you're roasting your meat, so you can cook a whole meal in one go if needed. You can also use our attachment in order to spit roast as well as cook hogs, and with our additional barbecue attachment, you can turn it into a mini BBQ that's perfect for grilling burgers, sausages, ribs and much more.
Contact Hog Roast Machine today to talk to our experts about our Hogmaster Pro or you can call up for an appointment to visit our showroom and factory if you prefer. We can help you take the first steps to owning your very own hog roast machine, whether to cook for your customers or for your family at home.