We were contacted by the Commodore of a local yacht club to inquire about buying one of our hog roast machines for their club. With so many social events going on, especially during the summer season, they didn't want to keep forking out for external caterers, but at the same time they didn't have to resources to dedicate a lot of time to doing their own catering because everyone had other family and work commitments outside of the club. The Commodore felt a hog roast machine was the way to go but he wasn't sure if they would get their money's worth from it. He soon changed his mind however, after a member of our well-informed customer service team introduced him to our state of the art Hogmaster machine!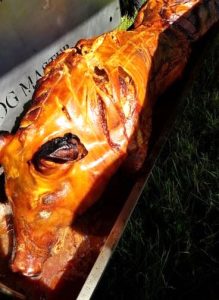 The Commodore agreed that the Hogmaster ticked all of the boxes and was the perfect purchase for the Yacht Club. It was the economical, user-friendly cooking method he was looking for, whilst still looking impressive and being a focal point for gatherings at the Yacht Club! He was also impressed with its versatility, as it can easily be set up outside on the marina during the summer months, to enjoy to boats and sea views, but it wouldn't just be gathering dust during the winter months, as the Hogmaster is just as effective and easy to use indoors because of its space-saving design!
After taking on board the advice given to him by our friendly delivery team, the Commodore couldn't wait to give it a go. He was at the helm for the Hogmaster's maiden voyage and delighted his fellow sailors with the fantastic, flavoursome meat his new acquisition produced! It was exactly what the club needed and they all knew their days of worrying about catering were over. Having always delegated the catering duties to other people in the past, the Commodore told us loved the Hogmaster so much that he wouldn't let anyone else get a look in now! He is now excitedly planning the summer's social calendar and is looking for any excuse to get his Hogmaster fired up!