With his 15th wedding anniversary on the horizon, Phil decided to treat his wife and all of their friends and family to his wife's favourite roast pork and crispy crackling and what's more, he decided he was going to take care of the catering himself. With it being such a special occasion and with more than 40 people to feed though, Phil knew he needed a bit of help, so he contacted us about hiring a hog roast machine for the day. We knew the Hogmaster was the perfect machine for his needs and Phil was very relieved when he assured him how easy it was to use. He told us he had considered hiring a hog roast machine in the past but had been put off because he thought it would be complicated to use and he might make a mess of it, which wasn't what he wanted when he had the added pressure of everyone watching him cook!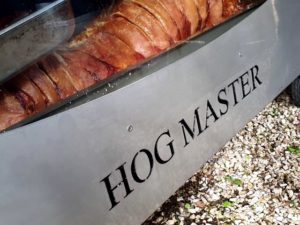 True to our word, Phil found the Hogmaster just as user-friendly as we promised it would be. After receiving a quick tutorial from our helpful delivery team, he couldn't wait to get it up and running! He said the best thing about it was the fact that it did most of the work for him, leaving him free to enjoy his anniversary party whilst also getting the kudos for his culinary skills! Phil's wife was delighted with the results and told him it was the best pork she had ever tasted! The rest of the guest agreed with her and they couldn't believe Phil had cooked it. He admitted to us that most of the credit should go to the Hogmaster and the perfectly cooked pork it produced with minimal effort required from him!
He said he would recommend the Hogmaster for any event where people are considering doing the catering themselves, as even the most unconfident cooks can get such great results from it. After the great success of his anniversary party Phil said he will definitely be hiring the Hogmaster again for his next special family occasion!