The Hog Roast Hertford team were recently contacted by Paul, whose son was coming home after working abroad. He wanted to do something special to welcome him back and since his son was such a big fan of pork, he thought throwing a party for all the family and hiring a hog roast machine would be a great idea. He wasn't sure at first if he would also need hire a chef to cook the meat because he was worried that he might not be up to the job himself. After a reassuring chat with a member of the Hog Roast Hertford team though, he realised he was more than capable because our Hogmaster is so easy to use, even for a hog roast novice.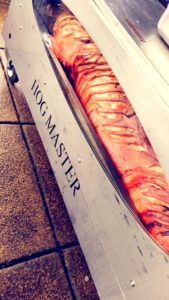 When it was delivered to his house on the day his son was due back, the delivery team gave him even more confidence after talking him through the basics and giving him some top tips on how to cook the perfect pork. Paul told us he couldn't wait to get started and spent several contented hours watching over the pork as it became increasingly succulent. He was pleasantly surprised exactly how easy the Hogmaster was to use and finally understood what we meant when we told him that it is designed to deliver maximum results with minimum effort!
With the meat reaching the end of the cooking process, Paul's wife went to the airport to collect their son and when he got back home after several months away, he was apparently delighted to be greeted not just by his entire family, but also by the enticing aroma of slow-roasted pork! Paul said everyone loved gathering round to watch the meat in the final stages of cooking, thanks to the glass viewing panel at the front of the Hogmaster. His son thought it was the best pork he had ever tasted, and he couldn't believe it had been cooked by his dad! Paul thanked us here at Hog Roast Hertford was making his son's homecoming even more special, thanks to our awesome Hogmaster machine!