We've just heard some very good things from Chris and Julia who recently made the wise move of hiring one of our Hogmaster machines, so they could host a DIY party for an important DIY project! On a whim they had bought a run-down old caravan a few months ago with the intention of doing it up and spending the summer freely roaming the UK in their very own mobile digs. That was the dream anyway, in reality the poor neglected caravan had been sitting on their driveway ever since, doing nothing more than taking up room!
The couple realised that if they didn't act quickly, the summer would be over without them travelling any further than their own front doorstep, so they decided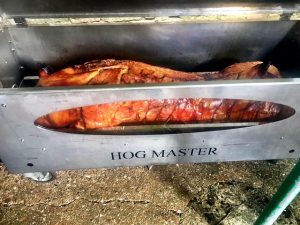 to round up some of their more practically-minded mates to help them get it fixed up and the road as soon as possible. In exchange for free labour, they decided to make a party out of it and provide some great grub and a few drinks to sweeten the deal! Chris and Julia were looking for a low maintenance catering option that didn't cost the earth and would still allow them to get stuck in to the caravan restoration themselves, whilst also impressing their friends. The answer came in the form of our Hogmaster machine, and after hiring it for the day, they couldn't wait to let us know what a great experience it had been!
They told us how impressed they both were with the practicality and efficiency of the Hogmaster, and because it is so easy to use, their mates all thought they cooked liked pros even though neither of them had ever attempted it before! The glass panel in the Hogmaster allowed Chris and Julia to keep an eye on the meat whilst it was cooking, meaning they were still able to be the hosts with the most but also have time to pick up a hammer or paintbrush when needed! Apparently, the smell of the meat spurred everyone on as they had hoped, and by the time their pork (which they sourced from an ethical supplier, as we advised) was ready, the interior of the dilapidated caravan was almost unrecognisable! Thanks to the Hogmaster, Chris and Julia had a great party and a very productive day. They can't wait to get on the road with their new-look caravan, they just wish they could take the Hogmaster with them!