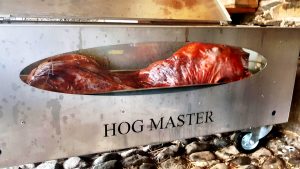 Harry was 18 and his parents had organised a party for family and close friends to be held in their garden. They were a family that enjoyed alfresco dining so it was decided that some sort of BBQ would be the best option. With marquees hired in case of bad weather all that was needed was to sort the food.
Harry's parents asked us at Hog Roast Rochester if they could hire one of our Hog Roast machines. After deciding how many guests were going to be invited we suggested the Hogmaster machine would be the best thing for them to hire. Our machines can be hired with staff who will do all the cooking but the family wanted to do the cooking themselves. We always show people who hire our equipment how to use it correctly and give full training so there are no problems on the day of the event. Anybody who is still unsure at a later date can always contact us and we are always on hand to solve any queries anybody may have.
Brent (Harry's father) suggested BBQ pulled pork sandwiches with apple sauce and stuffing along with a salad made by mum. There were no vegetarians attending so that wasn't a problem. A selection of pasta dishes and coleslaw was also on offer so there was no chance anyone would leave hungry. Hog Roast Rochester hire numerous machines out depending on the number of guests but our Hogmaster seems to be the favourite. We also sell our machines to anyone who wishes to buy one. Many people who have hired our Hog Roast machines asked to buy one as they find them easy to use and so easy to clean afterwards.
Brent had all the confidence in cooking a small pig for his son's birthday party knowing we were on hand if needed. We supplied the meat Brent asked for and seasoned it with our very own secret herbs and spices before using the very tasty BBQ sauce to coat the pig in. With everything set up and the pig slowly roasting there was a lovely aroma coming from the garden as guests arrived. Brent cooked the pig to perfection and as we'd shown him the best way to carve he was slicing the meat and filling bread rolls like a professional. The party was perfect. Everyone had a lovely time and the weather was kind to them.