Hog Roast Nuneaton are the UK's leading manufacturer of hog roasting equipment as well as running one of the largest hog roast catering companies in the country. This means we certainly know a thing or two about the art of hog roasting and as such can offer you the perfect environment to learn about which hog machine to purchase as well as train you with unparalleled advice about the ins outs of running a hog roast catering business.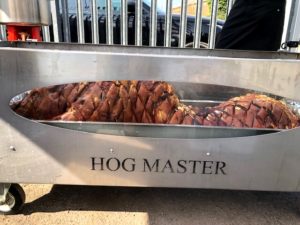 Whenever we receive an enquiry into purchasing one of our fantastic machines, we like to offer the client the opportunity to come and visit us at our factory in the north west of England. From here we design and build each and everyone one of our machines and can offer advice on how to use them as well as allow you the opportunity to 'try before you buy'.
One such recent customer was Alex. Having been running his own catering business for the past five years Alex was looking for something different to try his hand at. Having browsed our website, Alex had decided he wanted to try a Hog Roast Nuneaton machine for himself and so arranged a factory visit.
When Alex arrived, we happily showed him around and answered all of his queries about hog roasting. We spent a large amount of time demonstrating the Hogmaster Machine. As our classic machine the Hogmaster is built to last and can cook a hog large enough for two hundred people. To Alex this was music to his ears as he had been looking for a way to scale up his catering business. In fact, Alex actually decided there and then he would like to purchase the Hogmaster and also booked in for one of our training days to learn all the secrets of the trade!
We can't wait to see how you get on with your new machine, Alex!