Hog Roast Isle of Wight would not be the successful caterers we are were it not for our purpose-built  machines and our professional chefs who operate them on a daily basis. Each and every one of our machines is designed and hand crafted from our factory in the north west of England. This means that we truly know these machines inside and out and as a consequence we know just what they are capable of when it comes to catering.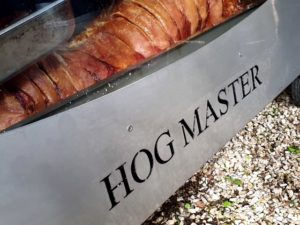 As the art of hog roasting dates back hundreds if not thousands of years, we have been able to fine tune the craft to create only the most exquisite results. What was once a simple affair involving open flames and a stick has now been built into our Hog Roast Isle of Wight machines to require minimal effort and maximum results.
In addition to using our machines ourselves we also sell them and offer them for hire to members of the public. This way we are able to share our joy of hog roasting with our clients and will always invite anyone who enquires to visit our showroom where you can get a feel for using the various machines yourself.
Gareth was one such client, interested in purchasing the Hogmaster machine as the newest addition to his own catering business. Having previously come to visit our factory he chose to visit once more and opted into a demo session whereby we show you how to operate the machines and offer some recipe tips. For Gareth this sealed the deal and confident that the Hogmaster was the right machine for him he booked in a delivery slot there and then.
Upon delivery we like to help our customers as much as possible and so will always recommend some local suppliers in the area to help you get started cooking your first Hog Roast Isle of Wight!