As the leading hog roast machines manufactures in the UK, for the past two decades we have been designing and producing our own Hog Roast Huntingdon machines in addition to using them to create exquisite dining up and down the country! We believe that everyone should get to enjoy a Hog Roast Huntingdon and experience the joy and pure satisfaction of preparing such a tremendous meal, a whole roasted hog. That is why we hire out and sell our machines to the public, so that everyone can try their hand at what is bound to be a new favourite hobby!
This week we had hired out the Hogmaster to a lovely couple, Shaun and Kira. Having been the caterers at the couples wedding a few years prior, they had always insisted they would be back in touch for another unforgettable Hog Roast Huntingdon, but this time they wanted to have ago at cooking it themselves!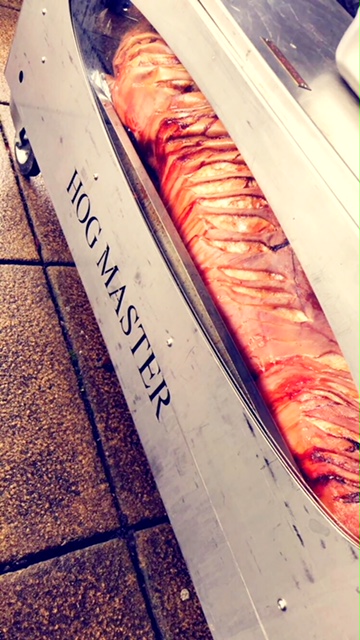 The plan was to drop off the Hogmaster, one of our original and most durable machines, to the couple's house first thing in the morning. It is part of our policy to make sure our customers are comfortable using the equipment and we endeavour to make sure you have everything you need in term of meat to roast, gas and diesel so that you can be raring to go! We also make sure we give a quick crash course in using the machine and provide a few cheeky recipe tips to make sure you impress your guests, but people are always surprised when we explain that really, the machine does all the hard work for you!
Assured we were leaving Shaun and Kira in the good hands of the Hogmaster, we wished them well for their event cooking for friends and family and arranged to collect the machine in a weeks time…